SYMCOD: innovation in data acquisition and display in harsh environments.
Since 1990, SYMCOD has been a technology company that stands out by offering reliable and efficient equipment for data collection, processing and display, meeting the highest quality standards.
In order to always offer state-of-the-art products, we place a vital emphasis on innovation and the constant improvement of all our product lines.
Our mission
OUR MISSION IS TO DESIGN, DEVELOP AND COMMERCIALIZE THE MOST INNOVATIVE DATA COLLECTION EQUIPMENT BASED ON A NETWORK OF SPECIALIZED PARTNERS.
Drawing on our extensive experience, we are able to understand the needs and challenges of companies in many sectors of activity whose work environment requires adapted equipment. That's why SYMCOD offers technological responses dedicated to each customer's specific constraints, by advising them on products from its current range of equipment or by developing custom-made systems.
Our values
We base our business practices on the creation of partnerships and collaborations, both within our partner network and in the relationship that binds us to our customers and suppliers.
Furthermore, we pay particular attention to the quality and consistency of the support provided by our teams. When our customers use the hotline, they get clear and accurate answers to ensure that they can enjoy the full potential of their devices.
Our strength
Our ability to understand market needs and translate them into concrete and reliable technological responses is certainly a major strength of SYMCOD, which sets us apart from the competition.
SYMCOD is also a vast network of partners. Attentive to your needs at all times, our experts in the development, software implementation and equipment integration, proudly represent the company and constitute an essential and differentiating asset to the users of our equipment.
Optimizing data management: Symcod's expertise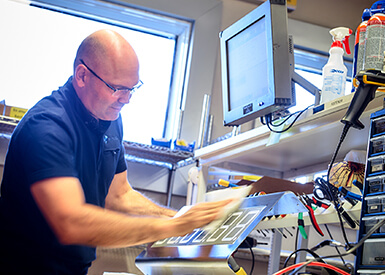 To optimize data collection and management, equipment must be carefully selected and installed with professionalism, both in terms of networking and ergonomics. Implanted in robust, reliable and efficient equipment, the application software completes the response to the need and forms a coherent whole in order to offer significant added value to the user. In addition, the product offered as a solution is always accompanied by a service that is efficient, effective and uninterrupted.
Since its inception, it is this global vision based on the desire to meet the real needs of the customer that has led SYMCOD to constantly seek to innovate and offer state-of-the-art equipment, contributing to the company's success. With SYMCOD, you get a guarantee of quality, both for its expertise and for its range of unique equipment.