HM-02N and VISION
Time-stamping tools that display the time in the workplace and have visibility of up to 200 feet.
Time-stamping clocks and digital displays in sync with the network or server.
They are robust and sealed and can be used in dry, damp or wet environments.
They allow to display machine numbers as well as their performance speed, percentage (%), production status, number of rejected parts, etc.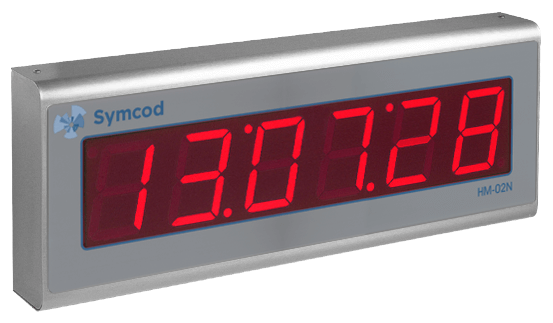 MORE DETAILS ABOUT THE PRODUCTS
Additional documentation
Consult our downloads centre for technical and detailed specifications or for any other general information related to this product.
Advantages
Synchronization

Get all the advantages of network synchronization.

Sealing

Decrease the risk of contamination with this hermetic model adapted to harsh environments.

Visibility

Display the time so that it is visible up to 200 feet.

Simplicity

Power supply over Ethernet cable (POE).
Key features
Displays time and digital data in real time
Synchronization available with network and server
Suitable for all types of environment
Visibility up to 200 feet
Ethernet TCP communication
Related Accessories
18 VDC power supply unit or single injector 24 VDC or DC injector 8 ports 24 VDC
Version without or with inputs/outputs (optocoupled digital, piezo and dry contact)
Want to know more about the products?