Neuron-Air
A powerful communication gateway.
IoT wireless temperature and humidity probe monitor. Each gateway can communicate with up to 50 temperature sensors. A maximum of 9 gateways can be present on the same site to reach 450 sensors. To simplify your installations, no software configuration is required. Addresses and different parameters are selected using rotating switches, directly integrated with the Neuron-Air.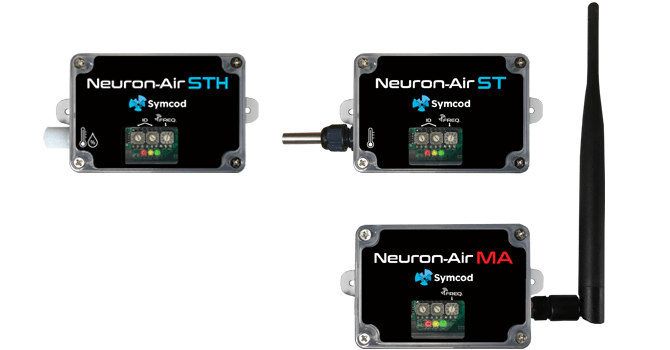 More details about the product
Additional documentation
Consult our downloads centre for technical and detailed specifications or for any other general information related to this product.
Advantages
Power

Enjoy a range of up to 2 km in 900 MHz.

Resistance

Place your sensor in the cold or heat with an external sensor of up to 110 °C.

Precision

Get accurate temperature measurements at 0.5 degrees Celsius, from -40F to 140 degrees Fahrenheit (-40°C TO 60°C).

Autonomy

Expect 10 years of battery life in normal mode.
Key features
Cold and heat-resistant sensor
Requires no additional IP address to setup and does not require a structural overhaul
900 MHzlong-range radiowaves, independent of wifi
Technology that allows for simple, wireless installations, while providing the power needed to cross obstacles, such as stainless steel walls, concrete, etc.
Custom configuration
Bridge RS-232
USB bridge (COM PORT emulation))
Ethernet TCP Bridge
Ethernet Bridge compatible LBC-IP SOH cloud
Ethernet Bridge compatible LBC-IP SOH
Ethernet Bridge Modbus Protocol TCP Slave
Ethernet Bridge MQTT Protocol
Additional options
Sensor with external probe
Want to know more about the product?