W Series Computers
– Capacitive touch technology
– Screen from 10.1'' to 23.8''
– Aluminum casing

XR Series Computers
– Resistive touch technology
– Screen from 15'' to 19''
– Aluminum casing
24/7 productivity in harsh environments
For over three decades, Symcod has been proud to offer its rugged all-in-one TermiCom computers to support your daily operations such as machine control, data acquisition, ERP operation, blueprint display, time and attendance management, and much more. Whether your production involves a day shift or a 24-hour day, our stand-alone PCs are specifically designed for the harshest environments of the manufacturing sector. Thanks to the high-quality components that we select with care, maintenance is reduced and the reliability of our computers is maximized.
Technology and durability
In addition to their long life and reliability, there are other features that set our heavy-duty all-in-one industrial touch screen PCs apart from other equipment. First, there is the touch technology which is well-known in industrial electronics and has proven itself over the years. Resistive touch allows the use of gloves or styluses since it responds to the pressure exerted on the screen. This technology, which we have known and used for a long time in Symcod equipment, performs well even where there is grease or dust and limits accidental contact (false touch).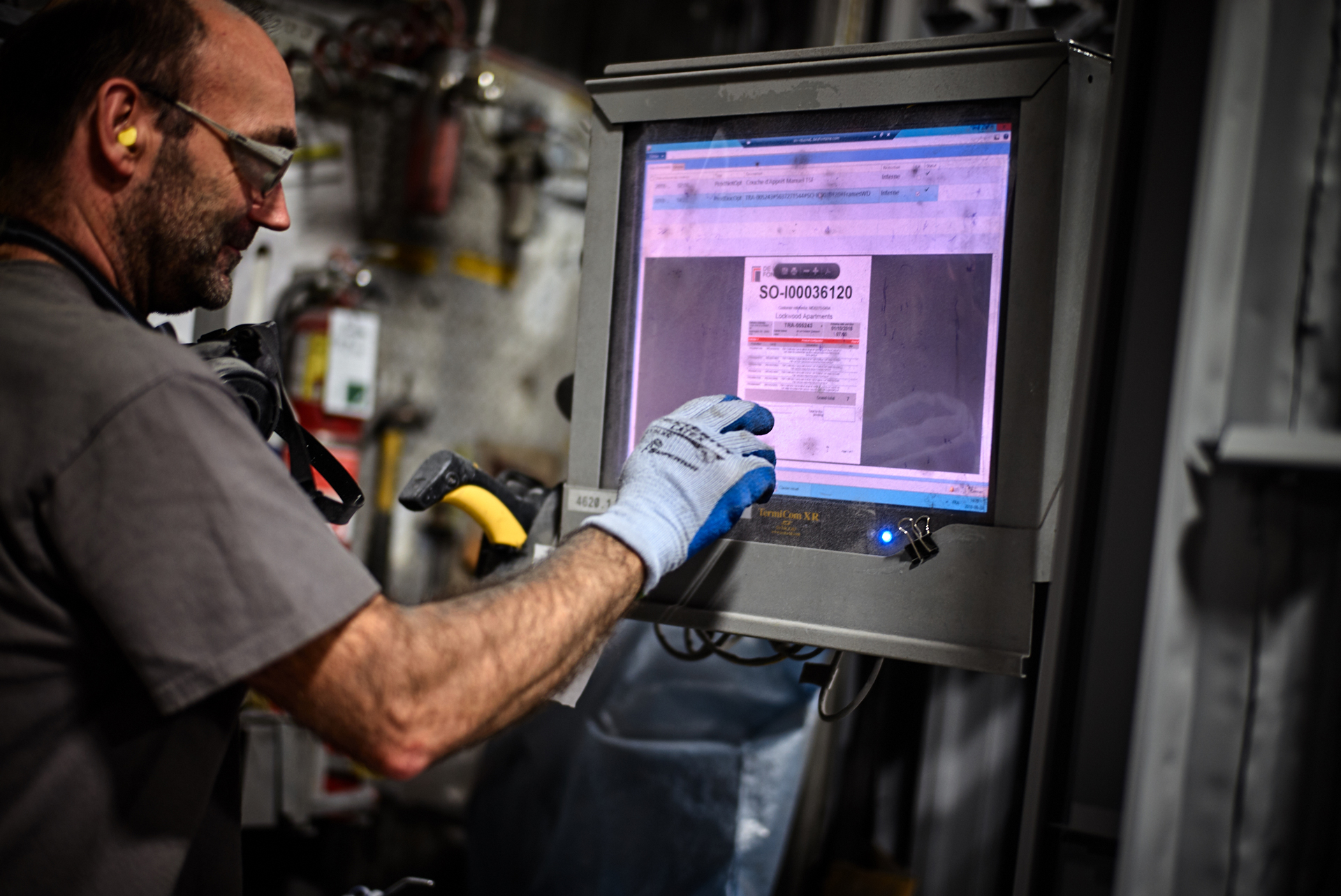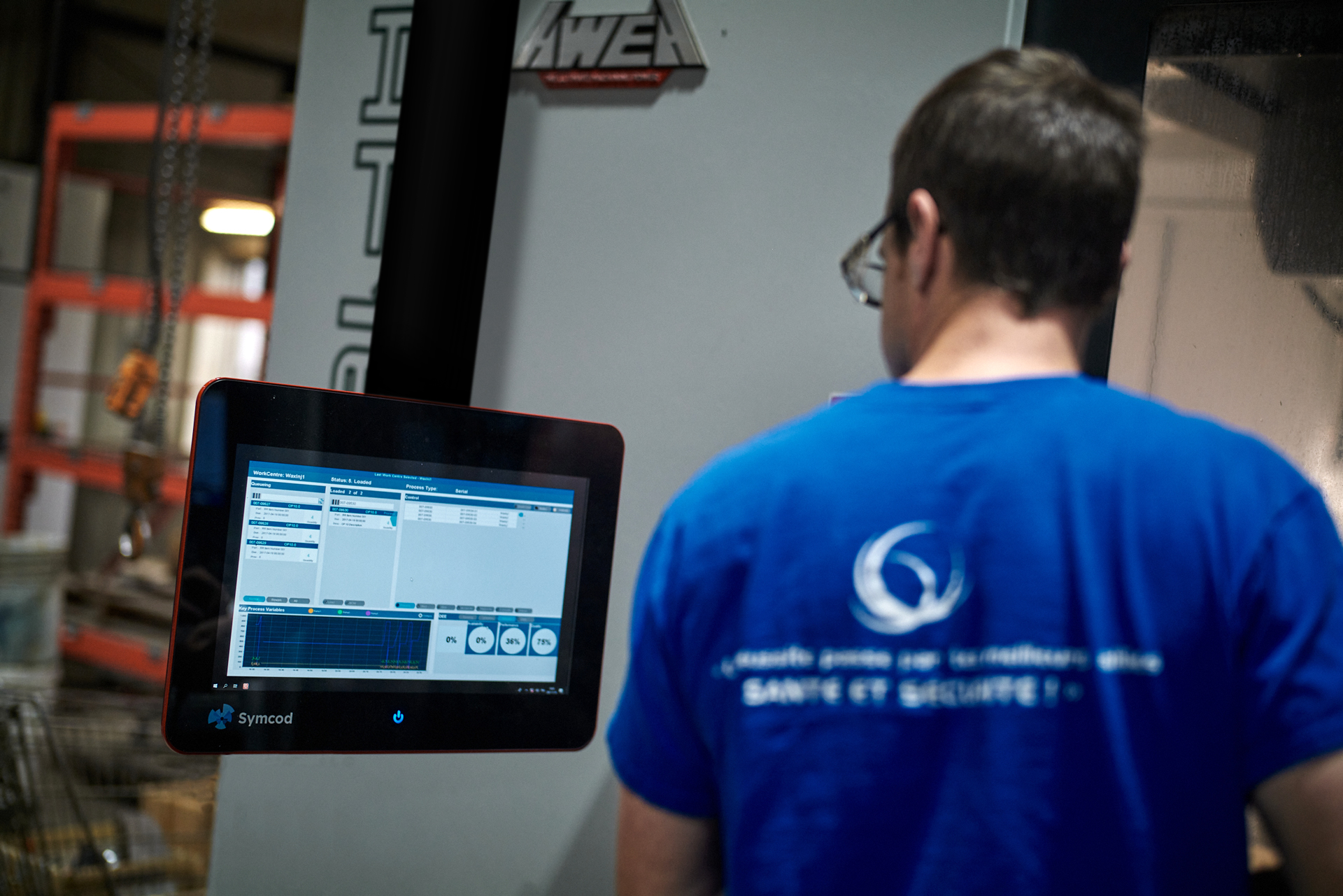 Capacitive touch technology is increasingly gaining ground in the market thanks to its undeniable advantages. Reacting to the conductivity of the human body rather than to pressure, a capacitive touch screen is very comfortable to use and delivers fluid navigation and superior brightness. The projected capacitive touch of our touch screen computers also allows for multi touch sensing to zoom in and out, control image rotation, turn a dial, operate a dimmer switch, and more. Both touch technologies benefit from our treated and reinforced glass substrate panel which increases resistance to vibration and shock.
Our line of all-in-one industrial touch screen PCs is available in formats from 10.1" to 23.8" (257 to 605 mm) in 16:9 ratio, and in formats from 15" to 19" (381 to 483 mm) in 4:3 ratio, depending on the selected model.
Since we always strive to help you simplify and optimize your daily management, we offer options to configure your workstations according to your real needs. Whether you opt for WiFi/Bluetooth connectivity, an integrated camera, an external or integrated RFID proximity reader, an emergency stop button, or unit personalization with your logo and colours, we always deliver utmost satisfaction.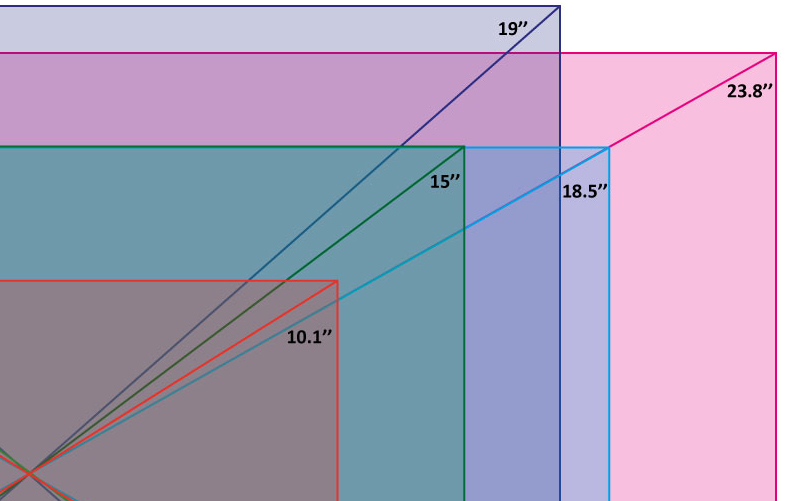 Easy installation and integration
Symcod's experts understand the environment in which you must perform and the challenges that come with it. There is no need to complicate things when it comes to installing our all-in-one industrial touch screen PCs on the production floor. All our models in this category have either a versatile wall/tabletop mount or a pre-drilled VESA 100 universal mounting interface which gives you a wide choice of ergonomic stands. Check out our adjustable stainless steel stand that combines ergonomics, sturdiness and durability or our painted steel VESA wall mount.
Installing and setting up your Symcod equipment is easy. All you need is an electrical source and an Ethernet or WiFi network and you can connect the peripherals you want such as keyboards, laser readers, scales, and printers using the easily accessible USB or serial ports.
Why adopt digital technologies in manufacturing?
Eliminate paper and simplify information management.
Introduce intelligent processes and reduce repetitive tasks.
Optimize processes and increase productivity.
Integrate communication networks and always have access to the right information in real time.
You too can join the ranks of manufacturing companies that have integrated digital technologies into their daily operations to increase efficiency. Talk to our experts to find out which Symcod solution is best suited to your needs!