SM100 Box PC
– Fanless compact design
– Low power consumption
– Aluminum casing
– 128 GB and more SSD disk
– 4 to 32 GB memory RAM
SM200 Box PC
– Active cooling design
– High-performance components
– Robust aluminum casing
– 2 removable SSD disks of 128 Gig and more
– 8 to 64 GB RAM memory
Computers for automated control
The field of automation is constantly evolving, and the possibilities are now almost infinite. And Symcod understands this. After more than 30 years of expertise in industrial computing, it was only natural to develop a high-quality North American solution to continue serving a customer base in the midst of a revolution. Symcod's SM series of industrial boxes PC are perfectly suited to industrial control systems and equipment requiring durability and stability, as in automation.
Robustness and durability for the most demanding environments
As rugged as a PLC, yet as powerful as a PC with extensive connectivity, you can rely on our SM100 and SM200 boxes PC from the TermiCom range to collect, process and manage your data. Your plant will run smoothly. Designed with meticulously selected parts, these PCs will provide years of maintenance-free operation. Offering excellent value for money, our industrial computers help reduce downtime and prevent breakdowns, giving you peace of mind.
Using the DIN rail mounting system, Symcod's industrial boxes PC install quickly and easily in a cabinet, in an industrial panel or on a shelf. Energy-efficient, this series of industrial computers, with or without fan, operates over a wide temperature range and withstands the most demanding environments, such as those with dust and other particles.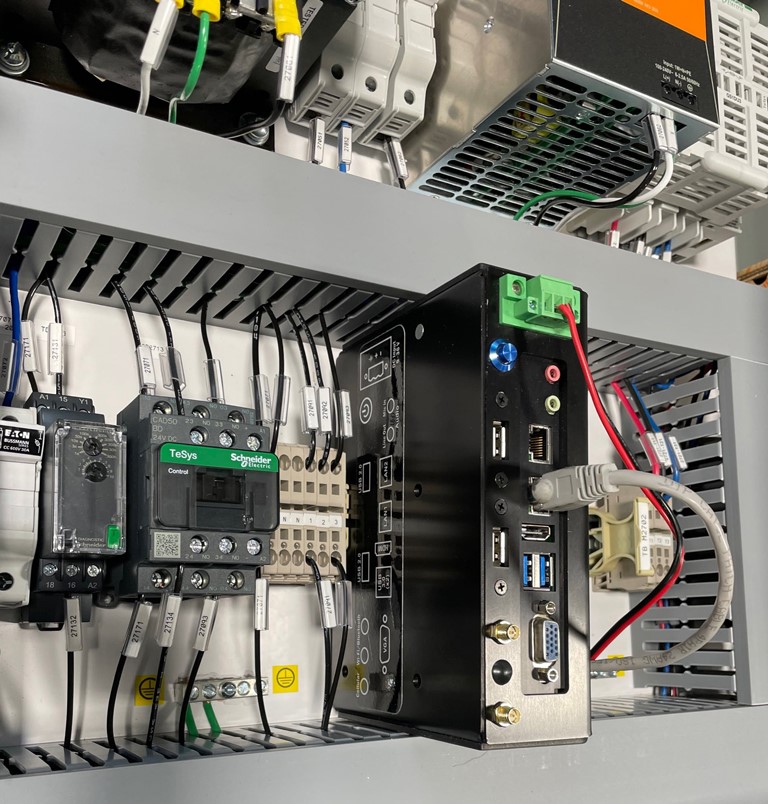 Versatility, adaptability and simplicity
Designed for peripheral computing, industrial motion control, and many other manufacturing applications, Symcod's SM Series industrial box PCs feature a variety of ports, including LAN, USB, COM, audio, video, as well as optional GPIO, Wi-Fi/Bluetooth and cellular. These computers support applications and can power stand-alone equipment, run software applications, or be integrated into a larger digital platform.
Our SM100 and SM200 Industrial PC Boxes can also be integrated into applications for the Internet of Things (IoT). All IT operations are performed via the network and a server connection. The server is responsible for operations requiring high processing power.
Using a Symcod box PC as a Thin Client in an IT infrastructure requires much less maintenance than an individual workstation, since it doesn't need to be updated with each new version of the operating system. What's more, only one element is required for proper operation: a web browser or Remote Desktop Protocol (RDP).
What are the PC boxes advantages?
Quiet
Easy to deploy
Quick ROI
Don't hesitate! Contact us and put your trust in our industrial PC Boxes, which have been designed to deliver high levels of reliability and performance for today's most challenging industrial IoT and edge computing environments.