TermiCom SM100
Certain situations do not require an all-in-one computer combining a monitor and a cabinet. For some installation projects, our customers opt for a monitor connected to a computer at a certain distance or fixed nearby, but in a cabinet. The computer tasks do not always require a visual plan. Sometimes, the computer is an integral part of a larger system. Whatever the reason, Symcod is always ready to meet our customer's needs, which are sometimes very specific. In these situations, we offer an affordable solution with our Din Rail PC, an embedded computer adapted to the most hostile environments.
ADVANTAGES
Robust and compact design
Aluminum casing
Fanless
Earth ground terminal
DIN Rail mounting
Operating temperature from 0 °C to 55 °C (32 °F to 131 °F)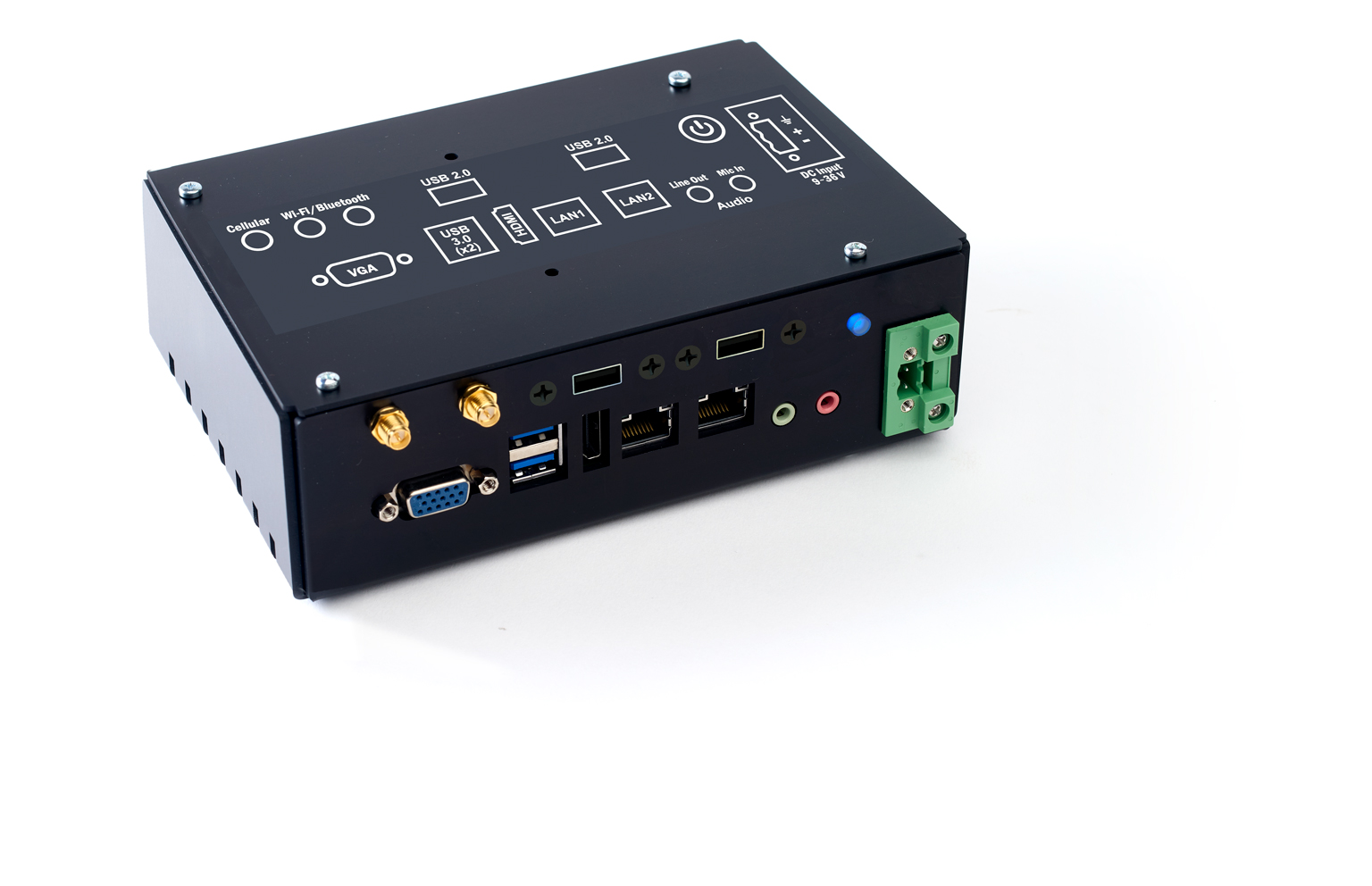 TermiCom SM100
The reliability and durability of the embedded PC
We designed our box PC to be fanless, so many equipment speed and maintenance issues are avoided. Although fanless, this very compact computer can withstand the temperatures of hotter environments such as partitioned areas. Symcod's SM100 Box PC is tough and durable and can help you improve the reliability of your equipment and reduce maintenance frequency and costs. With its anodized aluminum shell, this small PC offers optimal robustness and is suitable for many types of industries. Our embedded box PC is designed for quick and easy DIN Rail installation.
In addition to the processor (CPU) which executes the machine instructions of the programming, Symcod's embedded computer offers a choice of random access memory (RAM) that allows fast data access based on your needs and the calculations required for your applications. Data storage is efficient and with less latency using a flash disk (SSD) which is small, fast, and silent and, most importantly, has a long life span. Enjoy peace of mind by choosing to rely on our expertise in technology and harsh environments!
To allow you to take advantage of all the capabilities and the performance of a SM100 Box PC and also maximize them, ports are in place and extensions are possible for connecting all your equipment. You can also choose your preferred operating system that best fits your existing equipment. The reliability of Linux and Windows 10 IoT Enterprise systems in industrial environments is well known.
APPLICATION TYPES
Automated system control
Thin Client (device executes tasks from a server)
Print & Apply (real time labelling)
Database for traceability software
Simplify both your project design and installation with this space-saving industrial PC designed for DIN Rail mounting. Contact our team of specialists now to discover all its advantages!
OPTIONS
WiFi, Bluetooth, cellular
4 serial ports