TermiCom SM200
The Symcod SM200 is a rugged industrial box PC that combines high performance and an abundance of I/O in a sleekly designed case. Relatively compact for its performance, it measures less than 8 inches wide (200 mm), with ports strategically positioned on one side only. Housed in an aluminum chassis, this computer from the TermiCom range can be DIN-rail mounted, making it an ideal choice for electrical cabinets and other types of installation.
ADVANTAGES
Robust aluminum case
Dual slots for removable hard disks
High-performance Intel microprocessor
Grounding terminal
DIN rail mounting
Operating temperature 0°C to 55°C (32°F to 131°F)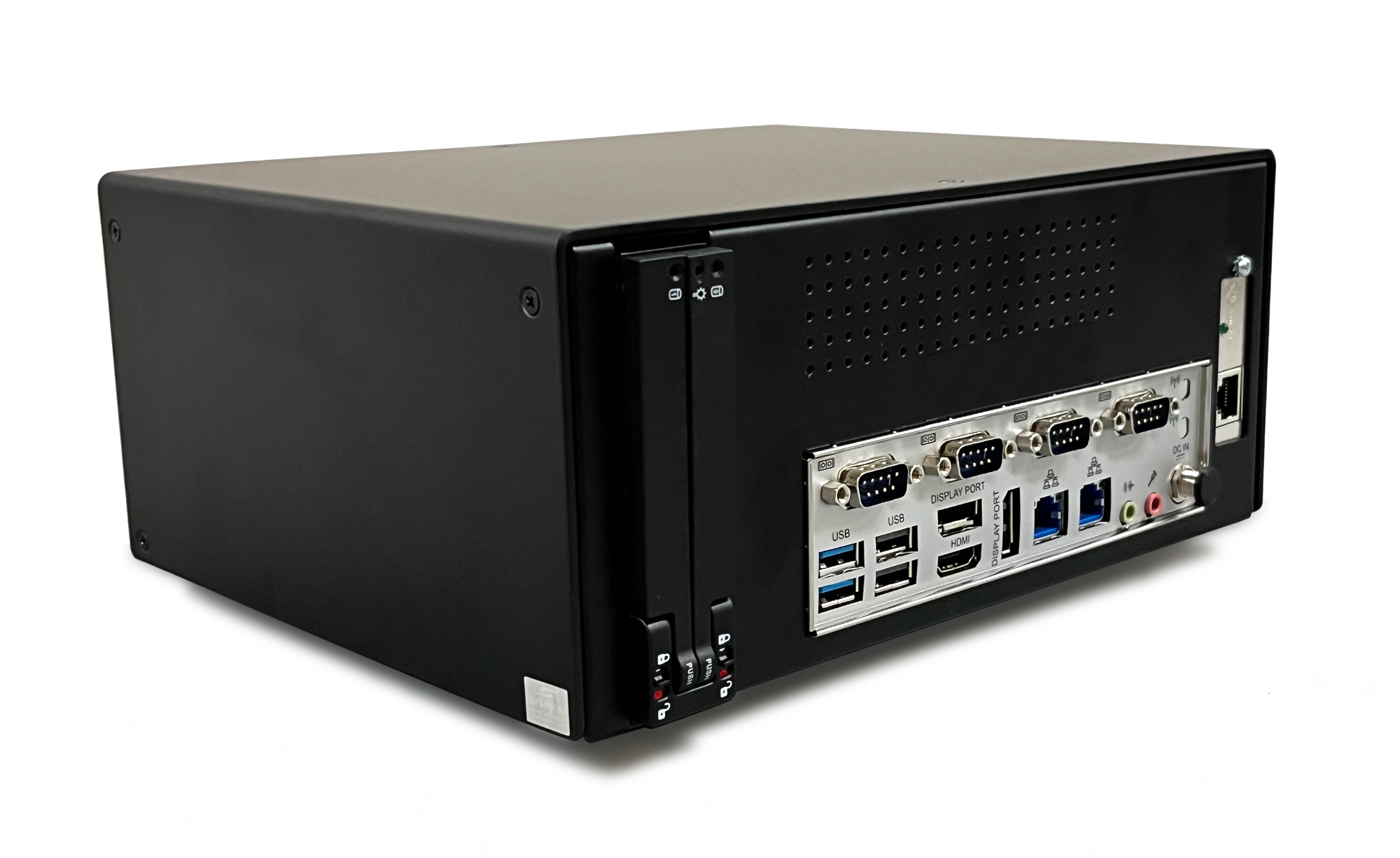 TermiCom SM200
Large capacities and broad compatibility
Symcod's Box PC SM200 has a number of features that make it a must-have for today's top automation integrators and OEMs. This computer can be configured with 2 removable 2.5″ SSD disks, with or without redundancy. This flexibility is essential for industry-specific applications such as computer vision, peripheral computing and quality control. In addition to the easily accessible storage compartment, Symcod's latest SM series is equipped with a variety of connectors, including 4 USB ports, 2-3 LAN ports, 4 optional COM ports, HDMI, DP, GPIO ports, and more. In addition, Symcod has developed expertise in working with KVM (keyboard, video, mouse) extension technology, which transmits keyboard, video and mouse signals to a monitor over long distances, while avoiding parasitic voltages and interference.
Perfect for those looking for a reliable, durable industrial box PC combined with high power, the SM200 in its aluminum casing stands up to the harshest environments. To perfectly match your needs, this computer is available with a choice of 12th and 13th generation Intel i3 to i7 processors, offering optimum performance when you need it. The computer also comes with up to 2 DDR4 RAM extensions of up to 32 GB each, for a maximum total of 64 GB. Enough to meet your expectations!
What is a KVM extension?
A KVM extension (keyboard, video and mouse) enables remote control of a computer. It consists of a transmitter and a receiver. The KVM transmitter connects to the computer and picks up signals from peripherals such as USB for keyboard and mouse, and video. These signals are transmitted to a remote user station, where a monitor, keyboard and mouse can be connected to the KVM receiver. KVM technology overcomes the usual distance limitation of HDMI®, DisplayPort™ and USB cables. The extension carries signals of unaltered quality over distances beyond 300 feet (100 meters).
APPLICATION TYPES
Automated industrial manufacturing
Vision and robotics
Intelligent traffic control
Security and surveillance
The case is easy to install on DIN rail, thanks to its bracket-ready design. High-quality components and special features, including an easily accessible storage compartment, make this box PC the ideal choice for automation integrators looking for top-level performance.
Look no further. You've found your industrial computer manufacturer who knows how to adapt to the constraints of your reality. Contact our team of Symcod enthusiasts today to get your project off the ground!
OPTIONS
Wifi, Bluetooth et cellular
Redundant hard disk drives (RAID)
4 serial ports